Meet Our Team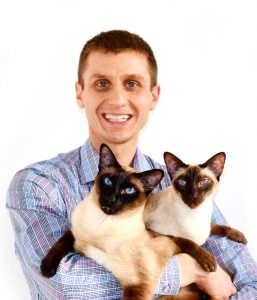 Dr. Erik Ask
Dr. Erik Ask's destiny as a feline only veterinarian was decided very early in life by his first Siamese cat, Flicka, as his crib was her preferred sleeping spot. Since those early months, Dr. Ask's life has been cat oriented. His cat preferred life was made official in 2004 when he received his Degree in Veterinary Medicine from Cornell University. He has practiced feline exclusive medicine since graduation in several exceptional feline hospitals along the east coast. During this time, he had the unique opportunity to hone his feline medical & surgical skills and incorporate the latest veterinary technology into his medicine. He became the owner of Cats Only Veterinary Hospital in 2008. Dr. Erik Ask lives with three Siamese cats Cashew, Darwin & Bo-Pah.
Professional Degrees:
Bachelor's Degree in Biology & Animal Physiology – Cornell University 2001
Doctor of Veterinary Medicine – Cornell University 2004
Professional Assocations:
AAFP (American Association of Feline Practitioners)
AVMA (American Veterinary Medical Association)
AAHA (American Animal Hospital Association)
Special Interests:
Laser Surgery
Internal Medicine
Pain management
Senior medicine
Dentistry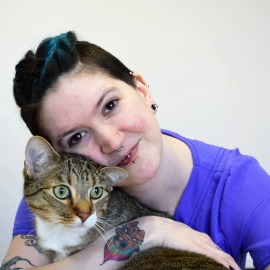 Alyssa
Veterinary Nurse
Our veterinary nurse Alyssa has been with Cats Only since 2013 and has been in the veterinary field since 2008. She has always had a passion for cats and enjoys working with them daily. She lives with 3 cats (Romero, Wes & Presley) and 1 dog (Spring).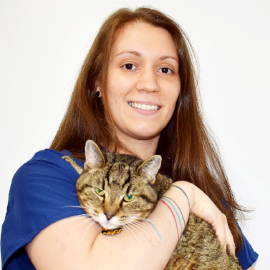 Carly
Veterinary Nurse
Our veterinary nurse Carly has been working in the veterinary field since 2012, primarily as a surgical technician. In her spare time she enjoys playing hockey & recording music as a multi-instrumentalist. Carly lives with her dog (Benita) and 4 cats (Cafrin, Bixby, Kiki & Hank)